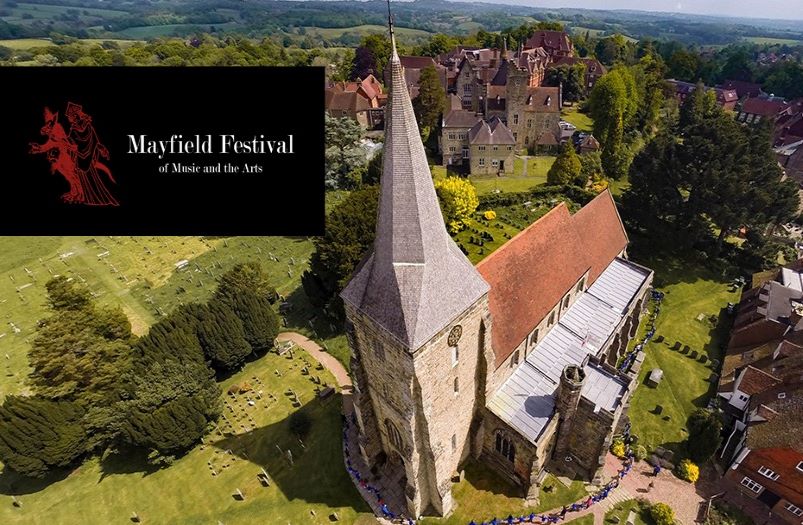 February 2022 Newsletter
Dear Friends,
We are delighted to announce that the programme for the 2022 Mayfield Festival of Music and the Arts is now complete and that the Festival will take place between Saturday 23 April and Sunday 8 May.
As ever, the Festival will feature an eclectic mix of musical genres and art forms, and with more than twenty events over the course of the Festival fortnight there is probably something for everyone. Not to be forgotten, of course, is the acclaimed Tunbridge Wells International Music Competition that runs as part of the Festival between Wednesday 27 April and Sunday 1 May and which provides an opportunity for members of the audience to listen to performances by some of the emerging international talent in the world of classical music.
Events of particular note include a recital by the renowned pianist Joanna MacGregor, the world premiere of Nicholas O'Neill's Cantata of St. Dunstan (which features in the opening concert of the Festival), a performance by the singer-pianist Joe Stilgoe and a concert given by the Oxford Camerata and the Mayfield Consort; this showcases masterful choral works written by English composers over a 500-year period including the spectacular Spem in Alium by Tallis.
We are also delighted to announce a new initiative by the Festival to provide half-price tickets for anyone under 30, and this will apply to all Festival events bar one*. As part of the Festival's objective to promote interest in classical music and the arts we have taken this step to encourage attendance by people in the younger age groups and it means that at most of the events in St. Dunstan's Church someone under 30 can purchase a ticket for as little as £2.50.
BOX OFFICE
Full details of all events can be viewed on the Mayfield Festival website at https://mayfieldfestival.co.uk.
The Box Office opens on Saturday 12 March 2022.
Steve Swanton
Chairman
Mayfield Festival of Music and the Arts
* this concession does not apply to the Shakespeare Sonnet Saunter on 23 April.
---
NEWS FROM OUR OTHER FRIENDS
In what we hope will become a regular feature of our newsletters we are pleased to be able to provide you with information about forthcoming events that are being held by other arts festivals in East Sussex and Kent.
---
Music@Malling brings outstanding music to historic venues in and around West Malling, Kent.
Our dynamic and inspiring programmes engage audiences from the local area, region and beyond – bringing new people into an area with a rich heritage and set in an outstanding natural environment.
Forthcoming events include Six Brandenburgs: Six Commissions in the iconic setting of Malling Abbey.  Founded in 1090, the abbey is the home to a closed order of Benedictine nuns – a stunning setting for six world premieres by a fascinating cross-section of British composers. World premieres by Brian Elias, Daniel Kidane, Stevie Wishart, Michael Price, Joseph Phibbs and Deborah Pritchard will be performed alongside Bach's Brandenburg Concertos on 23rd April 2022 in three special concerts given by the internationally acclaimed ensemble, Chamber Domaine – recently praised in The Times for its "superb artistry."
Full details and tickets:  www.musicatmalling.com
Lewes Festival of Song
Lewes Festival of Song's summer weekend takes place this year from Friday 1st to Sunday 3rd July.
Held at the beautiful St. Anne's Church in Lewes, our festival is devoted exclusively to classical song. We have a rich variety of recitals by leading artists and those on the brink of their careers.
This year's highlights include Mark Padmore singing songs by Schubert, Britten and Tippett, and Sian Edwards conducting Berlioz's Nuits d'été and Barber's Knoxville, summer of 1915 in our orchestral finale.
Further information for all the recitals can be found on
www.lewesfestivalofsong.co.uk