Meet the team behind the Mayfield Festival of Music and the Arts.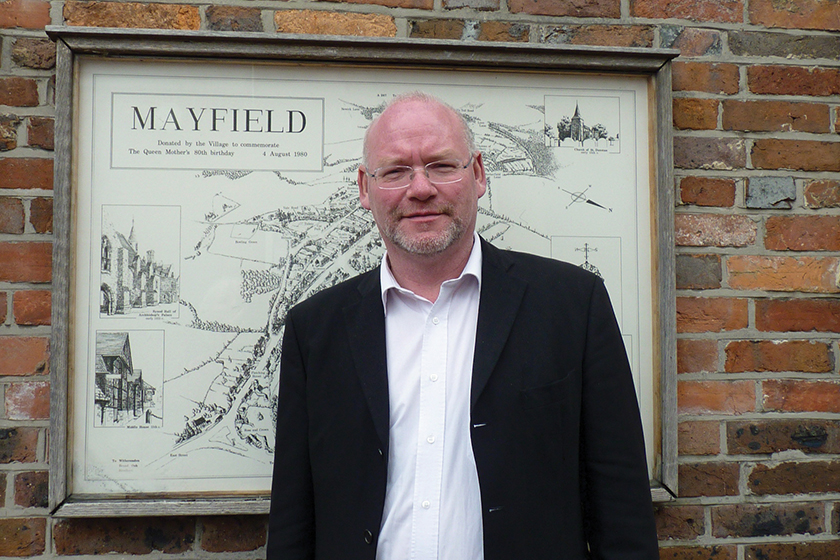 Jeremy Summerly, Artistic Director
Stephen Swanton, Chair
Steve has been chairman of the festival since 2017.
He is married to Lucy, a Mexican national, and lived in Mexico for 5 years. On returning to the UK he set up home in Mayfield in 1982. He has a daughter, who was born in Mexico, and a son born in Mayfield.
As a Mayfield resident he soon started helping with the festival; initially on the 'set-up' team moving chairs and putting up the staging. This progressed to welcoming the performers and coordinating the operational activities.
His career has been in IT and insurance, working in the Tunbridge Wells based insurance company NPI for 20 years. He had intended living in Mayfield for a year or two until he got to know the area but the beauty of East Sussex, and this village in particular, captivated him and he has stayed here ever since.
---
Jeremy Summerly, Artistic director
In 2012 Jeremy Summerly was appointed the Festival's Artistic Director. Jeremy is Director of Music at St Luke's, Chelsea and a broadcaster for BBC Radios 3 and 4. He founded the Oxford Camerata in 1984 who regularly performs at the Festival.
Jeremy teaches at Caius College, Cambridge and has been a regular contributor to BBC Radio for over 30 years. In 1984 he founded the Oxford Camerata who are regular artists at the Festival. He is the Consort Director of Edington Music Festival and Visiting Professor of Music History at Gresham College, London. Jeremy was appointed Director of Music at St Luke's, Chelsea in 2010 and in 2017 became a Fellow of the Royal School of Church Music. Jeremy lives in London with his wife Helly and five-year-old daughter Effie. They recently acquired a narrow boat on which they spend much of their spare time mucking about on the river and canals in West London.
---
Jonnie Jones, Artistic Coordinator and Finance Director
Jonnie's first job during summer holidays was at Margate's Dreamland encouraging huge numbers of Mods and Rockers and trippers to play bingo. A design company supplying stores throughout the world including Carnaby Street and Habitat took him to the mid 80's since when he has been accountant and finance director for a variety of businesses. His biggest disappointment was failing the interview to become the head of public relation at the Royal Festival Hall in 1966. But loving music as an amateur has probably been more fulfilling than being within the industry. Having that, with Jenny his wife, five children, fifteen grandchildren and five great grandchildren keeps him happy and busy!
---
Mary Anderson, Chair of the Tunbridge Wells International Music Competition
Mary has been involved in the Tunbridge Wells International Music Competition since 2013 and became Chair of the Competition Council in 2018. Supported by a strong Competition team, she is deeply committed to developing its future with the Festival and the association with Mayfield School.
Mary has lived in Tunbridge Wells with her family since 2006. She works as an environmental consultant, and enjoys playing the piano and singing with the Mayfield Festival Choir.
---
Andrew Benians, Music Adviser
Andrew Benians began his career as a chorister of St Paul's Cathedral, London. After studies at the Royal Academy of music with Ruth Harte, Douglas Hawkeridge, and later with the late John Scott. He has held the posts of countertenor lay clerk, and lay vicar of Norwich and Chichester Cathedrals, whilst maintaining a busy career as a conductor, organ recitalist, accompanist and teacher.
Andrew was appointed Director of Music at St Dunstan's Church, in 2004, and has been accompanist to the Mayfield Festival Choir since then. He also established The Mayfield Consort, a small a capella group of sixteen experienced choral singers in 2009.
Andrew teaches singing, piano and organ at Saint Ronan's School and Mayfield Girls School. He is married and has two children.
---
Jane Bolger, Festival Choir Chairperson
Jane discovered the joy of choral singing embarrassingly late in life when the chance purchase of a singing lesson opened her eyes to its magic and wonder.
A geographer by training and project manager by experience she has always been drawn to the excitement of working intensively on something with others.
Since 2013 she has been chair of the Festival Choir and, more recently, part of the Festival organisation team.
---
Simon Tayler, Venue Manager
Simon thinks quite a lot about Music in Mayfield making "outstanding music in a beautiful setting...". Asked about looking worried at a rehearsal he was once heard replying: "someone has to".
Anyway the shared ambition of our behind the scenes "Many Hands..." concert industry might be striving for perfection with efficiency that's invisible. It only ever feels like "...light work".
Early promise as a conductor himself was cut short when Simon decided to hand in his ticket machine at the Winchester bus depot and return to college to sing instead.
---
Tony Trevillion, Systems Manager
---
Matthew Ward, Music Adviser
Matthew is Director of Music at Mayfield School, as well as Director of the Stonegate Choir and Schola Corneliae and a Regional Director of the Schola Gregoriana of Cambridge. He brings to the Festival a breadth of musical and academic experience including teaching at the Universities of Cambridge and St Mary's, Twickenham as well as broadcasting experience. He has published on the music of Sir James MacMillan, and is producing an edition of twelfth-century chant from St Albans Abbey. His position as a director ensures continuity in the strong and developing relationship between Mayfield School and the Festival.