Meet the team behind the Mayfield Festival of Music and the Arts.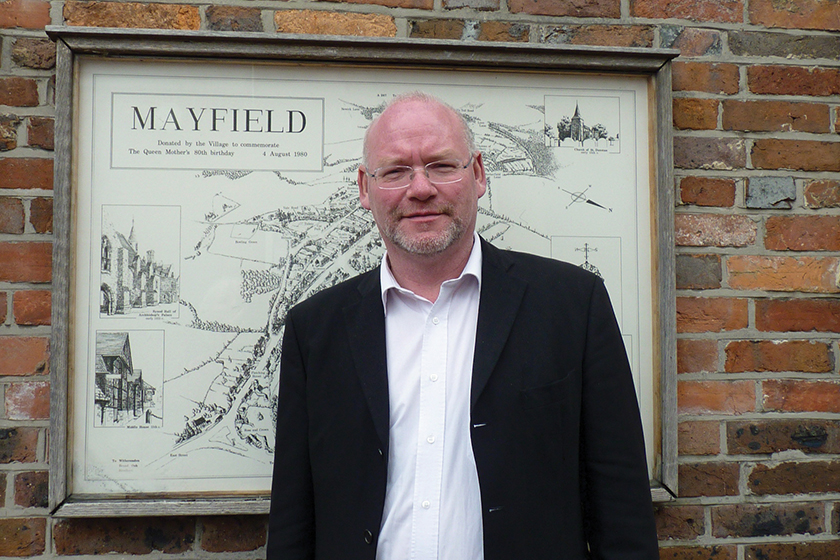 Jeremy Summerly, Artistic Director
Jeremy Summerly, Artistic Director
Jeremy has been the conductor of Mayfield Festival Choir and the Artistic Director of Mayfield Festival of Music and the Arts since 2012; two years later he founded Mayfield Baroque (a period-instrument orchestra drawn from London's most exciting young professional players) specifically to work with Mayfield Festival Choir and his other choirs in London and Oxford. He is founder-conductor of Oxford Camerata (who regularly perform at the Festival) and Director of Music at the London church of St Luke's, Chelsea. He has worked with local choirs and orchestras in locations as far afield as Melbourne, Cape Town, Tokyo, Helsinki and San Francisco and has conducted Benjamin Britten's Hymn to the Virgin across the River Jordan, with one choir in Jordan and the other in Israel.
As a teenager he was a composer, and he has supported the performance of contemporary music since his student days in the 1980s at Oxford University and King's College, London. He has been arranging folk songs for choirs and orchestras for 25 years, much to the dismay of his folk-singing friends who regard his classical treatment of folk song as a travesty. He is a reviewer for BBC Radio 3's Record Review and a contributor to BBC Radio 4's daily arts programme Front Row, where he has talked about subjects as varied as the Christmas carol, appropriate music for Valentine's Day and the resonant frequency of 19th-century German bathrooms. He has written articles for the Cambridge History of Musical Performance and the Cambridge Encyclopedia of Historical Performance in Music
In the 1990s he conducted Ligeti for Ligeti, Tavener for Tavener, and Pärt for Pärt, and he is an Honorary Member of the Royal Academy of Music, where for over thirty years he has been variously Head of Academic Studies, Head of Undergraduate Programmes and now Sterndale Bennett Visiting Lecturer in Music. He has conducted more than 60 commercial recordings of music spanning a millennium and has produced an equal number with groups such as I Faggiolini, the Choirs of New College and Christ Church, Oxford, the Choir of Westminster Abbey and Stile Antico (with whom he won a Gramophone Award for production in 2021).
Jeremy was Director of Music at St Peter's College, Oxford from 2015 until 2019 and was elected a Fellow of the Royal School of Church Music in 2017. In 2019 he began a three-year tenure as Visiting Professor of Music at Gresham College in the City of London and in 2020 he became a supervisor for undergraduate Music students at Gonville & Caius College, Cambridge. Jeremy lives in London with his wife Helly and daughter Effie. They recently acquired a narrow boat on which they spend much of their spare time mucking about on the river and canals in West London.
---
Stephen Swanton, Chair
Steve has been chairman of the Mayfield Festival since 2017.
He is married to Lucy, a Mexican national, and lived in Mexico for 5 years. On returning to the UK he set up home in Mayfield in 1982. He has a daughter, who was born in Mexico, and a son born in Mayfield.
As a Mayfield resident he soon started helping with the Festival; initially on the 'set-up' team moving chairs and putting up the staging. This progressed to welcoming the performers and coordinating the operational activities.
His career has been in IT and insurance, working in the Tunbridge Wells based insurance company NPI for 20 years. He had intended living in Mayfield for a year or two until he got to know the area but the beauty of East Sussex, and this village in particular, captivated him and he has stayed here ever since.
---
Jonnie Jones, Artistic Coordinator and Finance Director
Jonnie's first job during summer holidays was at Margate's Dreamland encouraging huge numbers of Mods and Rockers and trippers to play bingo. A design company supplying stores throughout the world including Carnaby Street and Habitat took him to the mid 80's since when he has been accountant and finance director for a variety of businesses. His biggest disappointment was failing the interview to become the head of public relations at the Royal Festival Hall in 1966. But loving music as an amateur has probably been more fulfilling than being within the industry. Having said that, Jenny his wife, five children, fifteen grandchildren and six great grandchildren keep him happy and busy!
---
Mary Anderson, Chair of the Tunbridge Wells International Music Competition
Mary has been involved in the Tunbridge Wells International Music Competition since 2013 and became Chair of the Competition Council in 2018. Supported by a strong Competition team, she is deeply committed to developing its future with the Festival and the association with Mayfield School.
Mary has lived in Tunbridge Wells with her family since 2006. She works as an environmental consultant, and enjoys playing the piano and singing with the Mayfield Festival Choir.
---
Andrew Benians, Music Adviser
Andrew Benians began his career as a chorister of St Paul's Cathedral, London. After studies at the Royal Academy of music with Ruth Harte, Douglas Hawkeridge, and later with the late John Scott he has held the posts of countertenor lay clerk, and lay vicar of Norwich and Chichester Cathedrals, whilst maintaining a busy career as a conductor, organ recitalist, accompanist and teacher.
Andrew moved to East Sussex as Director of Music at St Dunstan's Church in 2004, a post that he held for 18 years. During his time at St. Dunstan's he oversaw the growth of the Parish Church Choir from a small handful of singers to more than 25 members that performed to a high standard. Andrew also teaches piano and singing at Mayfield School and Saint Ronan's School, Hawkhurst. In 2009 he established the Mayfield Consort, an ensemble that has gained a loyal following, and which is particularly noted for its polished, communicative performances of a wide repertoire as well as regular collaborations with Oxford Camerata, including Bach's Mass in B Minor.
Andrew has acted as Accompanist to Mayfield Festival Choir since it was re-founded as a society in 2004, accompanying the choir in concert performances of a significant number of works including Rossini's Petite Messe Solennelle and Bernstein's Chichester Psalms. Other projects have included St Dunstan's Choir singing with Salisbury Cathedral Choir for a weekend in 2019 and performing Widor's 'Messe' together, the commissioning and premiére of two works by composer Malcolm Archer, a performance of three Advent Cantatas by Bach with Mayfield Festival Baroque Orchestra in December 2021 and choral evensong at Chichester Cathedral in February 2022.
Andrew is a Director of the Mayfield Festival. He is married and has two children.
---
Jane Bolger, Mayfield Festival Choir Chairperson
Jane discovered the joy of choral singing embarrassingly late in life when the chance purchase of a singing lesson opened her eyes to its magic and wonder.
A geographer by training and project manager by experience she has always been drawn to the excitement of working intensively on something with others.
Since 2013 she has been chair of the Mayfield Festival Choir and, more recently, part of the Festival organisation team.
---
Matthew Ward, Music Adviser
Matthew is Director of Music at Mayfield School, as well as Director of the Stonegate Choir and Schola Corneliae and a Regional Director of the Schola Gregoriana of Cambridge. He brings to the Festival a breadth of musical and academic experience including teaching at the Universities of Cambridge and St Mary's, Twickenham as well as broadcasting experience. He has published on the music of Sir James MacMillan, and is producing an edition of twelfth-century chant from St Albans Abbey. His position as a director ensures continuity in the strong and developing relationship between Mayfield School and the Festival.
---
Simon Tayler, Venue Manager and Schools Promotion Executive
Simon thinks quite a lot about Music in Mayfield making "outstanding music in a beautiful setting...". Asked about looking worried at a rehearsal he was once heard replying: "someone has to".
Anyway the shared ambition of our behind the scenes "Many Hands..." concert industry might be striving for perfection with efficiency that's invisible. It only ever feels like "...light work".
Early promise as a conductor himself was cut short when Simon decided to hand in his ticket machine at the Winchester bus depot and return to college to sing instead.
---
David Hathaway, Marketing Manager
David claims to have no discernable musical talent but he does enjoy watching performances by people who do. As a result, he has attended many music festivals in his life - most of which have been held in churches or cathedrals - and contends that this has given him the perspective of "the punter in the pew". He spent most of his working life in a variety of business management roles within the oil industry (one of which actually involved marketing) before retiring in 2019 and then moving to Mayfield with his (also retired) wife, Cheryl, at the end of 2020.
After arriving in the village he volunteered to help with the Mayfield Festival. Expecting to be asked to do a bit of stewarding and leaflet dropping he found himself being handed the marketing budget and challenged to find out what could be achieved with £100 and a variety of supermarket money-off vouchers!